Proudly Show Off Your Smile
Your smile is the first impression that others have of you, so it makes sense that you would want it to be bright, white and healthy. According to the American Academy of Cosmetic Dentistry, more than 99 percent of all American adults believe that a smile is an important asset for social situations. Perhaps that is why so many patients are electing cosmetic dental procedures to improve their smiles and boost self-confidence.
At Genesee Family Dentistry, we know the best options to improve your smile. Schedule an appointment with us in Flint to know your options and choose the right one for you.
Straight Teeth Are Healthier Teeth
When your teeth are aligned, the health benefits are clear. With healthier gums, improved hygiene, and less wear and trauma, the choice is easy to make.
What Types of Orthodontic Appliances are Available?
When you imagine someone wearing braces, you probably picture small metal brackets bonded to the front of the teeth, with a thin wire running through them. This time-tested style remains very popular — but it's no longer the only option. Clear braces use brackets made of ceramic or plastic which, except for the slim archwire, are hardly visible. Lingual braces are just like traditional metal braces — except they're bonded to the back of your teeth (the tongue side) so that no one can see them.
We can offer Invisalign clear aligners along with more traditional Orthodontic Appliances. Schedule an appointment so we can help you find the option that works best for your alignment needs!
How does Invisalign treatment work?
Invisalign clear aligners use the most advanced technology to give you your best smile yet! Using a series of clear aligners, your treatment can straighten your teeth with 75% more predictability. Plus, your smile is shaped more comfortably than with braces.
You will receive a complete digital scan from your doctor. Your doctor will send your scan to Invisalign where they will work together on your case. Give us a call to get scheduled for your consultation and get started on a healthier, straighter smile!
Give us a call to get scheduled for your consultation and get started on a healthier, straighter smile!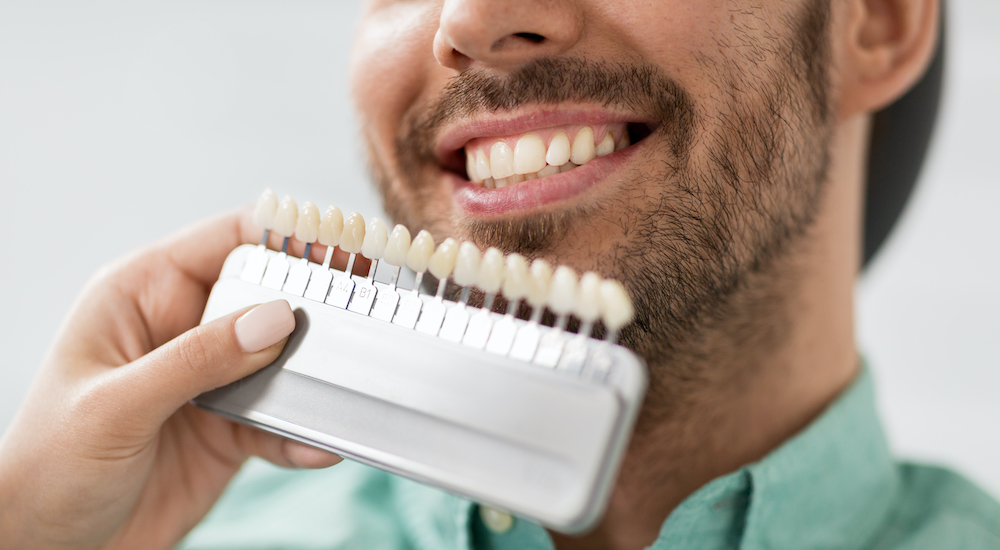 Whiten Your Teeth, Improve Your Smile
As we move through our day to day, our smile can get a little duller. After years of coffee, tea, red wine, and other indulgences, our teeth can change from their once bright white to a little... less white. But at Genesee Family Dentistry, we have options to help whiten and brighten your smile.
Teeth Whitening
Teeth whitening procedures are used to brighten the appearance of a patient's smile – sometimes by as many as 5 to 10 shades in a single session. According to the American Dental Association, teeth whitening procedures have become some of the most popular esthetic dental treatments among patients throughout the country, including. Professional teeth whitening services can be performed in an office setting or prescribed for take-home use by a patient. In comparison to over-the-counter teeth whitening treatments, professional whitening uses stronger whitening agents that deliver faster and more effective results.
Dental Veneers
Dental veneers – also known as laminates – are used to cosmetically enhance the appearance of one or more teeth. Veneers are very thin, porcelain or resin shells that are customized for a desirable color and shape. They are bonded to the surface of the teeth to reshape broken, misshapen or irregular teeth, as well as provide a solution for discolored teeth that do not respond to traditional whitening treatments. Patients with veneers typically achieve a natural tooth appearance that is well-tolerated by the gums and also resistant to future stains.
Genesee Family Dentistry in Flint can also provide these services:
Tooth Colored Fillings
Dentures
Crowns & Bridges
Align Your Teeth And Brighten Your Smile With The Best Cosmetic Dentistry Provider In Flint
What a difference straight, white teeth can make! A great-looking smile can boost your self-confidence and have a positive impact on social and professional opportunities. Orthodontic treatment and teeth whitening are the original smile makeover tools — and you will be happy to know that you're never too old to take advantage of it.
Fill out the short form on your screen to set up your consultation today!